Life at Forward
A week at Forward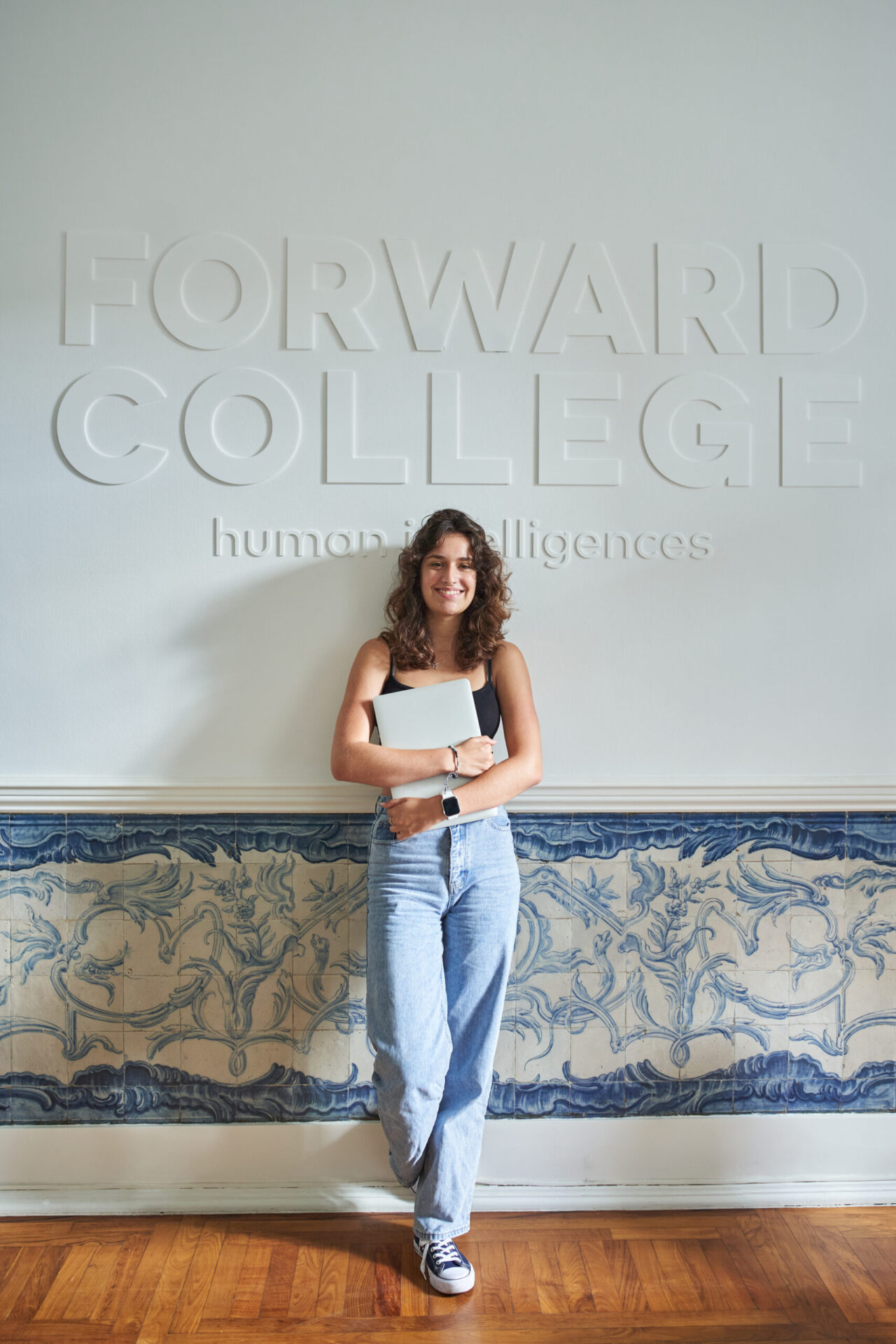 Whether in Lisbon, Paris, or Berlin, your week will be a busy one, as you will be studying for your University of London Bachelor's and for your Leadership training together. You can expect that each week will include: academic study, entrepreneurship activities, and personal development work.
Your week will be intense with a mix of academic work from your University of London Bachelor's (in orange), and your Leadership training (in turquoise) such as project management and personal development.
You can see the weekly workload for the academic University of London Bachelor's in orange, and for the Leadership training in blue on the following illustrative agendas.
Bachelor's
Bachelor's+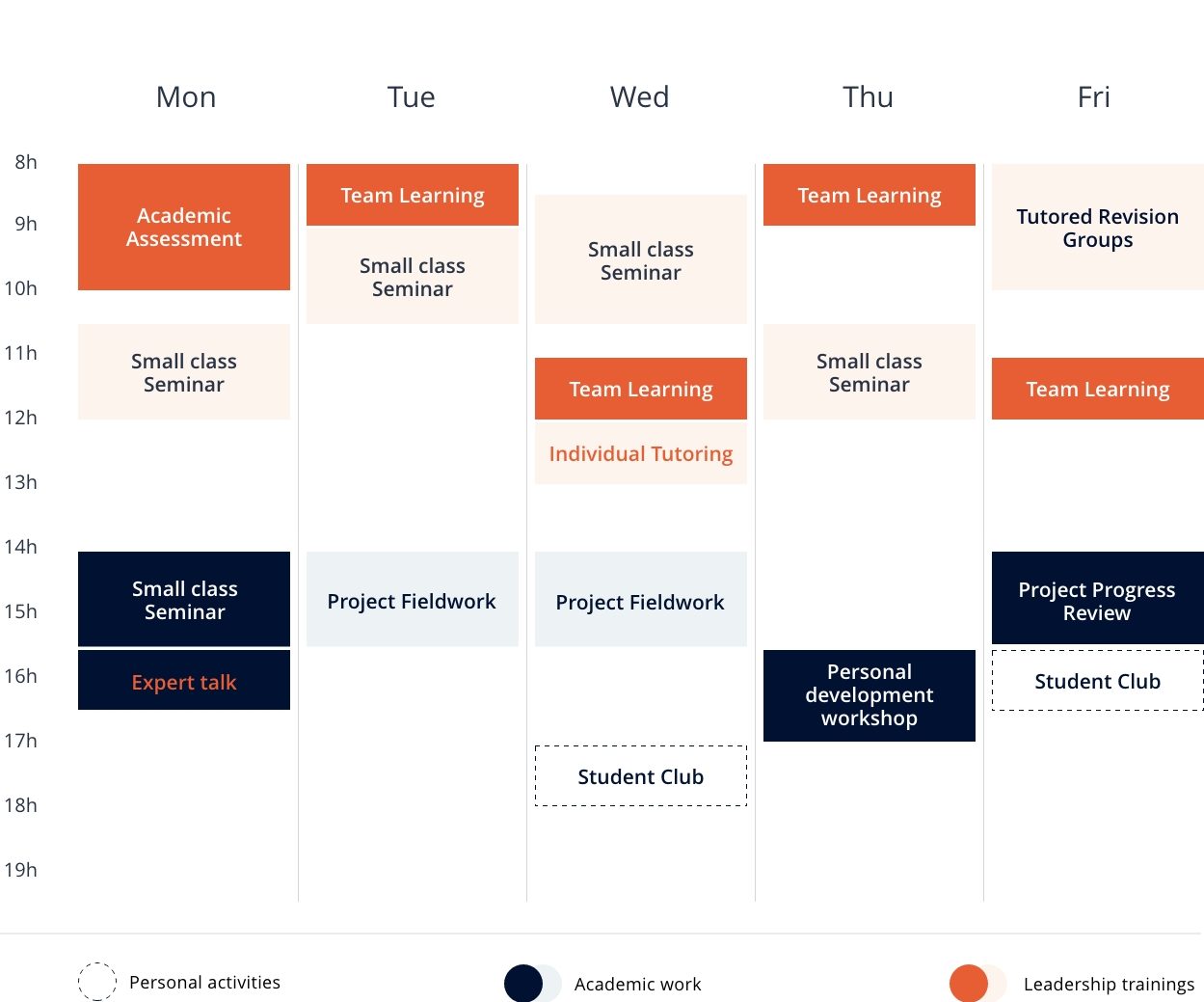 Double Bachelor's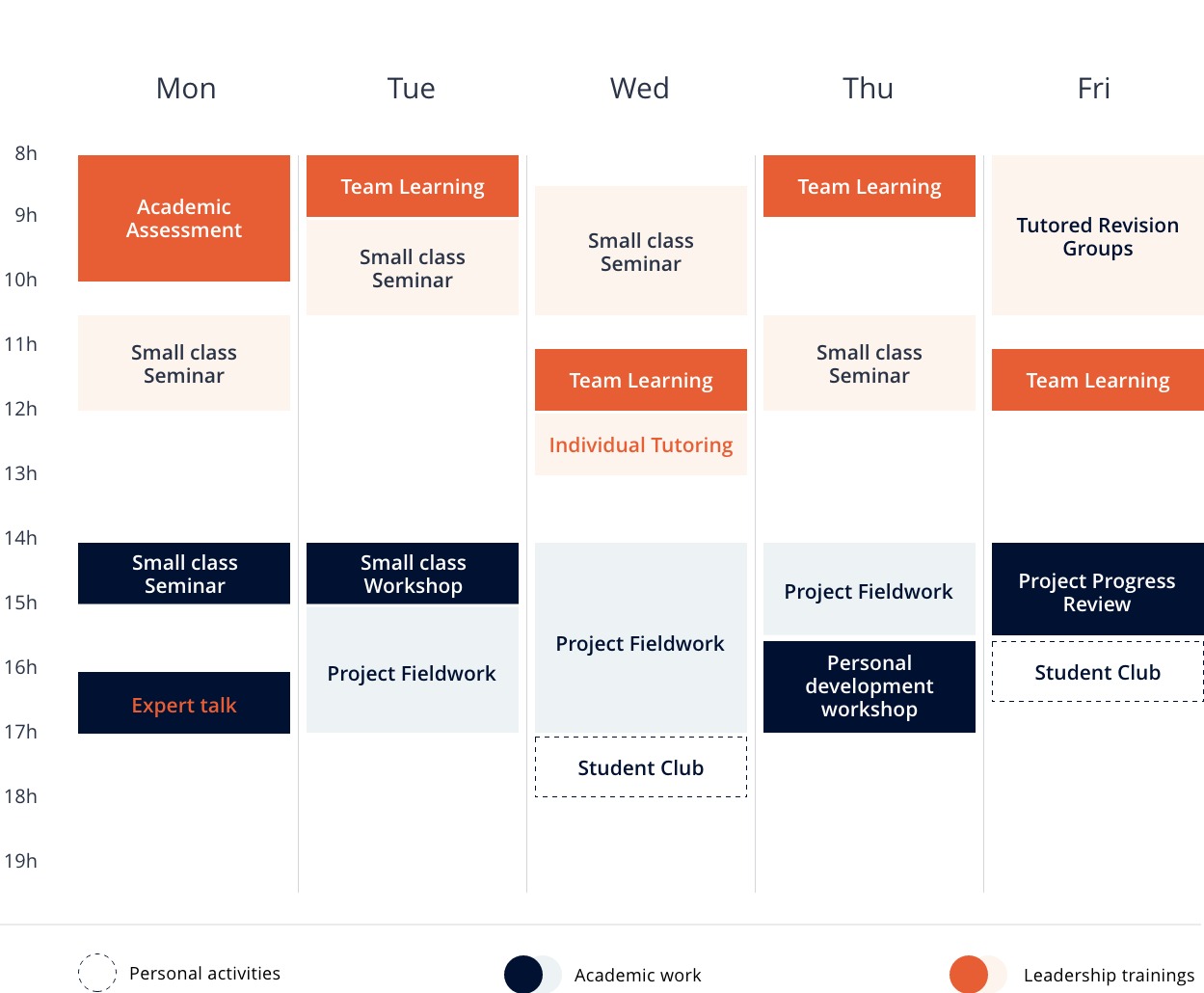 Team work holds a
unique place at Forward College.
Independent student teamwork holds a unique place at Forward College. It accounts for nearly as many hours in the week as in-class activities. Across the three main cores of learning at Forward College, academic study, leadership activities and personal development, you will be asked to work in teams of three to five students to develop and complete a wide range of activities.
Working in teams prepares you for your professional future. You will learn how to develop reciprocal relationships with your peers, plan activities and organise roles.
You can see below the list of activities relating to each core of your learning.
Academic Learning
Activities
Teaching mostly takes place during seminars with one Forward Fellow (Member of faculty) and 15 students on average. Seminars are flipped: they are not designed to deliver content but to help students answer difficult questions, solve problems in teams, debate or simulate real-life situations after having been through the content. Students are expected to be highly engaged and come to class fully prepared which requires 4-8 hours of work before each academic seminar to:
– study their course independently (readings) and apply it and/or answer questions depending on the subject
– meet in small study groups (2-4 students) to share difficulties and support each other.
– escalate most aspects of the learning material to their Fellow so that he/she can ensure the maximum impact of their class.
Inspired by the "Oxbridge" tutorial system, these weekly sessions (in year 1) aim to ensure students have a deep understanding of their performance in their last formative assessment and identify training activities to improve specific aspects of their performance. Students are progressively expected to come to the tutorial with their own analysis of their performance. In year 2 and 3, depending on students autonomy, tutorials may take place with 2 students and the Fellow to foster emulation.
Tutored revisions Groups are meant to help you in your preparations before the weekly formative assessment. They cover both methodological techniques and most challenging aspects of the courses to review.
As part of forward flipped classroom approach, you are expected to go through the learning material (readings, videos…) independently before each seminar. Your Fellow often expects you to complete an individual (or team) assignment to apply the new knowledge. You are also expected to share the most challenging part of the course with your Fellow before the seminar.
Regroup with your team (two to four students) to share what you've learnt in that week. This is the opportunity for mutual aid and going one step further completing the assignment sent by your Academic Fellow before the seminar.
Each week, you will complete an Academic Assessment task in exam conditions. These tasks last between 60 and 90 minutes, and you will get weekly individual feedback in the follow-up Academic Tutorial.
Entrepreneurship
Activities
These Seminars are similar to academic seminars as students are required to attend fully prepared. The seminars bring together the Fellow and 15 students on average to clarify difficult aspects of the course and apply its methodologies or techniques to case studies. they take place at the start of the week.
Workshops take place right after seminars also early in the week. They have the same format and aim to guide project teams in applying the new techniques and methodologies of the week to their specific project. The Fellow also supports teams in planning their fieldwork activities. Debriefing: These weekly sessions take place at the end of the week in very small groups (the Fellow with 1 or 2 projet teams). This is the moment to review your progress and team dynamics, solve problems you may have encountered, and envisage what the next steps should be.
Field work takes place between the workshop and the debriefing. This is when teams work to progress concretely on their project according to their team plan defined at the end of the workshop. This is the moment to take action!
These sessions take place weekly in small groups of two to five teams with your Leadership Fellow. This is the moment to review your progress, unlock problems you may have encountered, and envisage what the next steps will be.
Personal Development
Activities
After a short quiz or Q&A session to test the group understanding of the topic of the week, students engage with their Fellow in a range of learning activities to better understand the reasons behind your decisions and behaviours, and consider ways in which you can act upon them. Each week, at the end of the seminar, you will commit to an assignment in small teams of students who share the same ambitions on the topic.
Each year, you will self-assess your progress in a range of cognitive (intellectual), social, emotional, and practical skills. You will also receive feedback from your Teaching Fellows and peers. You will debrief the results of this holistic assessment with your personal coach to reflect on your progress and set your goals and aspirations for the coming year (2 sessions of 45 min.).
Each week, you will prepare for the seminar thanks to readings, videos and/or taking a test to discover where you stand on the topic of the seminar.
As changing our behaviours requires constant practice, you will train with your peers on the assignment given by your Personal Development Coach. You can expect to be engaging with a range of training practices for about 1 to 3 hours each week.